Day 1: Aswan the beautiful city famous by the Nubian culture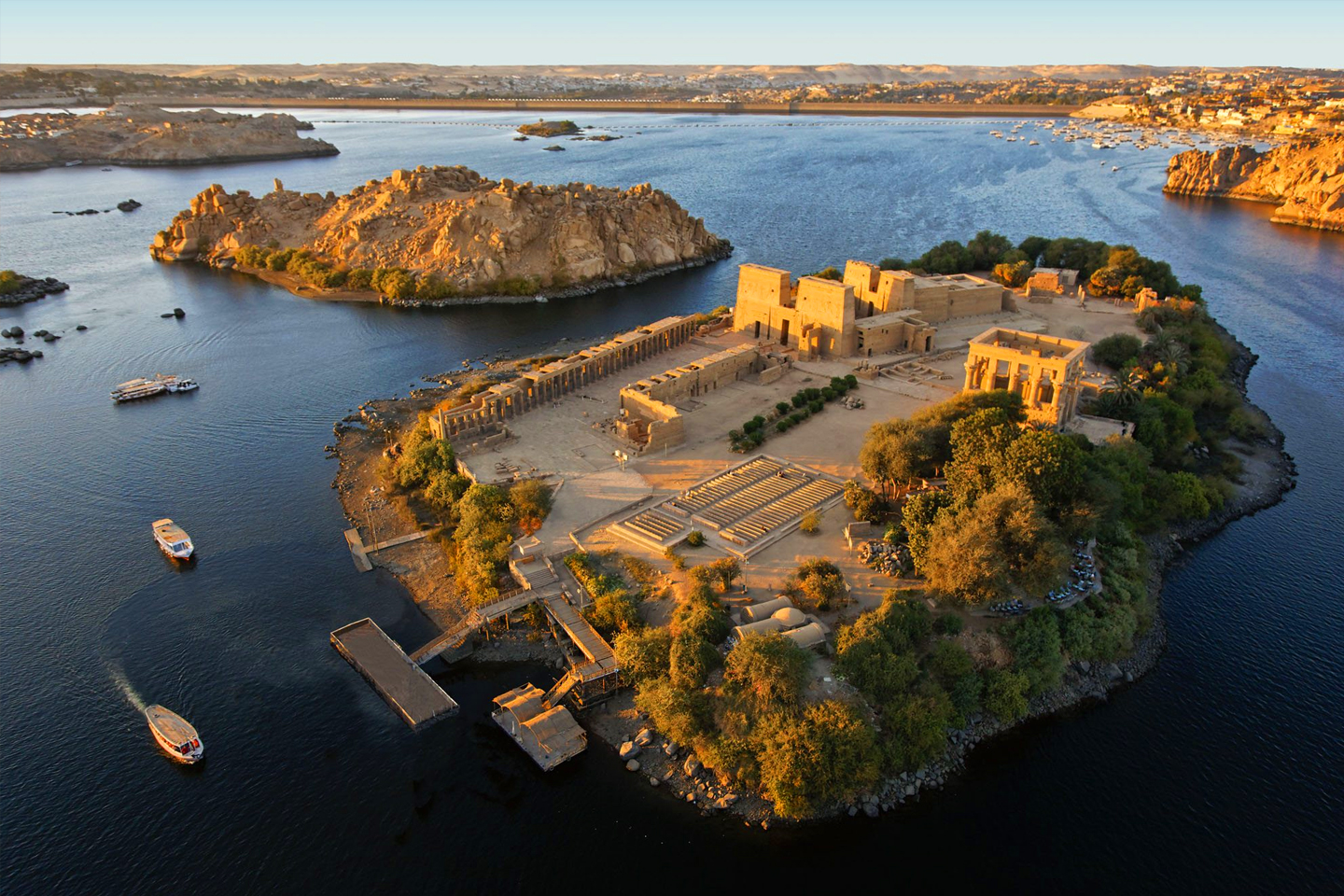 Meet by your tour guide at Movenpick Aswan hotel and begin your day of exploring by visiting Aswan high lights.
Today's sightseeing includes:
Aswan High Dam: visit the famous Aswan High Dam, an engineering miracle used as an embankment dam situated across the Nile River, built in the 1960's to protect Egypt from annual floods.
Temple of Philae: visit the great philae island temple. a boat trip to the Temple of Philae, which was built in honor of goddess Isis.
Unfinished Obelisk: Continue to the Unfinished Obelisk in the granite quarries of Aswan where much of the red granite used for ancient temples and colossi came from. The Unfinished Obelisk located in the Northern Quarry still lies where it was carved when a crack was discovered as it was being hewn from the rock. Your qualified Egyptologist guide will explain how the 1 tonne obelisk was carved, and why the crack caused it to be abandoned.
Then, Board your Dahabiya cruise boat. Enjoy lunch. Later, Ride Like a Local around the Aswan Islands in a felucca, while enjoying a refreshing Scenic Sundowner.
Meals: Lunch, Dinner.
Day 2: Enjoy sailing- Visit Kom Ombo

Today, the Dahabiya will star to sail toward the north. Enjoy sailing and have your delicious lunch on the sun deck during sailing. Enjoy Aswan views and take rare photos of Aswan islands in the both sides of the Nile. watch the professional captain of the Dahabiya who wear mostly galabya the official dress of upper Egypt men while he move from the port slowly step by step between the another cruises and motor boats. the Egyptian culture around you every where. the Dahabiya sail by the Nubian islands where you will find their children play and their men and women work at the green fields. small fish boats, villages which is full of splendid Egyptian culture. it is great chance to have unique photos of the real culture.
Today's sightseeing includes:
Kom Ombo Temple: Stop In Kom Ombo, you will visit the Temple of Kom Ombo, which is dedicated to the crocodile god Sobek. enjoy sailing to Gebel Silsileh which was a very famous quarrying area throughout all of ancient Egypt due to the quality of the building stone quarried here. The site is a rich archaeological area having temples cut directly on the hills. Our Dahebieh will sail right to the foot of this majestic mountain where we will have the peaceful luxury of being the only boat to be docked in this area.
Meals: Breakfast, Lunch, Dinner.
Day 3: Sail to Luxor - Luxor East bank

Today's sightseeing includes:
Temple of Karnak: Karnak Temple, the greatest example of worship in the history, dedicated to the God Amon, his wife Mut and their son Khonsu.
Luxor Temple: the Temple Of Luxor, it was built by Amunhotep III in 18th Dynasty in the New Kingdom and it was completed by Ramses' II during the 19th Dynasty.
Meals: Breakfast, Lunch, Dinner.
Day 4: Luxor West Bank Tour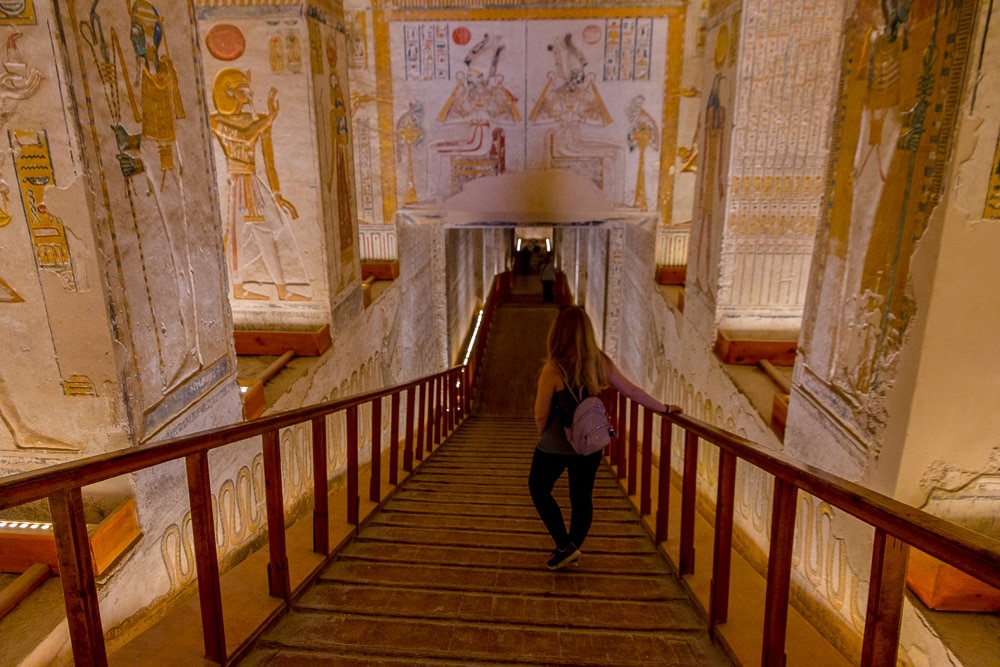 Today's sightseeing includes:
Valley of the Kings: the Valley Of The Kings, the magnificence of the grandeur of architecture which was used for burial, there are many kings buried in this valley. The most known tombs are King Tutmosis I, Tutmosis III, Tut-Ankh-Amon, King Ramssess VI, King Mrenptah and AmonhotepII.
Temple of Hatshepsut: at Deir el Bahari: the Temple of Queen Hatshepsut that known as El Dir El Bahari which was built by Queen Hatshepsut the daughter of Thutmosis I, who ruled Egypt about 20 years during the 18th Dynasty (approximately 1490-1469 B.C), the only pharaonic woman who reigned ancient Egypt.
Colossi of Memnon: The Colossi of Memnon which is remains of the mortuary temple of Amenhotep III.
Stop At: Luxor Eat typical Egyptian lunch in local house where you can touch the real Egyptian culture and have unique photos with an Egyptian family
Final transfer to your hotel in luxor, train station or airport with unique photos and unforgettable memories.
Meals: Breakfast & Lunch.
Itinerary is subject to modification according to navigational and security restrictions without prior notice.
PRICE (CHRISTMAS & NEW YEAR RATE)
$1000 Per Person in Double Occupancy.
$1430 Per Single Person in Single Occupancy.
PAYMENT POLICY
Space will be secured upon receiving a deposit of %50. This deposit forms part of your final payment. The Remaining Balance To Be Paid On Arrival Cash Or by Credit Card.
CANCELLATION
From 20th December to 2nd January (Christmas), refunds will not be available in the event of cancellation.
Important information
- All passengers travelling to Egypt must be in possession of negative PCR test certificate for COVID-19 with Quick Response (QR) code, taken at a maximum of 72 hours before their flight departure time.
- We recommend booking your domestic flight (Cairo to Luxor, before 10 am) AND (Aswan to Cairo after 13:00) so that you'll be able to make the most of your cruise itinerary.
Frequently Asked Question
Q-When to book? A-Book as soon as possible to guarantee availability. Q-How to book? A-To reserve the activity, choose the date and complete the form on this page. You will receive your confirmation immediately.