Day 1: Monday 24 Oct. Lufthansa 582 arriving 2:15pm - Arrival in Cairo

Your representative will meet and assist you at Cairo International Airport [Before the immigration counters, holding a sign with your name] and provide you with an entry visa for Egypt and then he will escort you to your hotel by exclusive air-conditioned deluxe vehicle. No meal.
Day 2: Tuesday 25 Oct Visiting the Pyramids & Sakkara

After breakfast, You will be accompanied by your personl guide to Giza Plateau to visit the Great Pyramids of Giza: Cheops, Chefren and Mykerinus and also the famous Sphinx and Valley Temple facing the great statue. Lunch will be served in a good quality restaurant, and then proceed to Sakkara area to visit Sakkara Complex and first pyramid ever built, Djoser Pyramid. Then, move to Memphis; Old Kingdom's capital and famous Necropolis.Overnight in Cairo.Meals: Breakfast, Lunch.
Day 3: Wednesday 26 Oct Cairo Sightseeing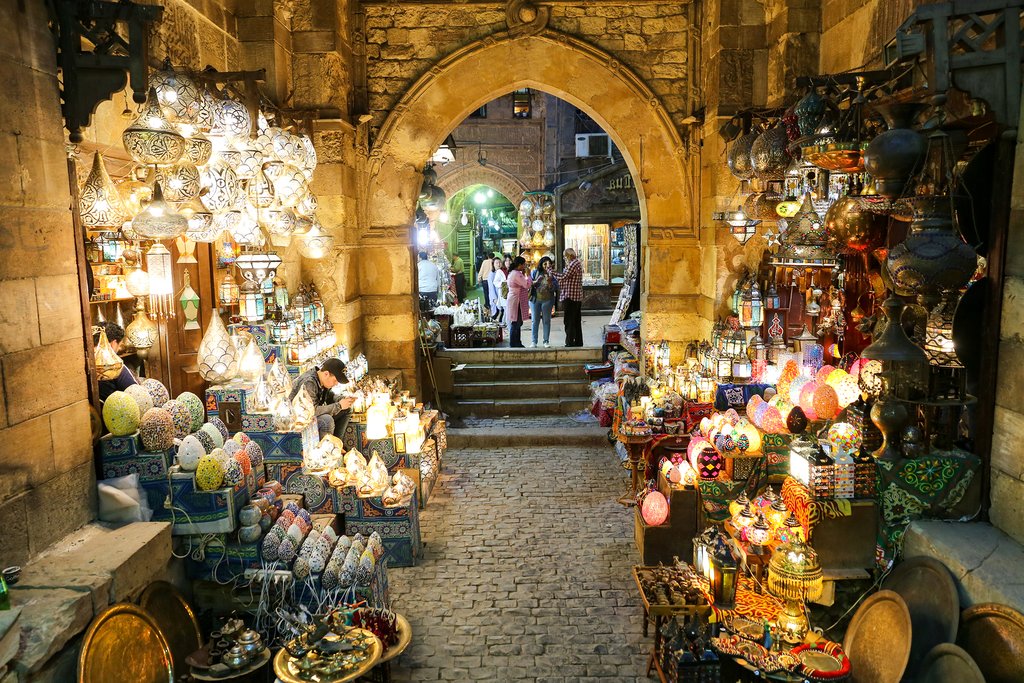 After taking breakfast at your hotel in Cairo, you will be escorted by your private guide to visit the Egyptian Museum. Lunch will be taken throughout the tour at a local restaurant. Then, continue driving to Islamic Cairo, where you will be able to explore Khan El Khalili, Cairo's oldest bazaar.Overnight in Cairo.Meals:Breakfast, Lunch.
Day 4: Thursday 27 Oct. Flying to Aswan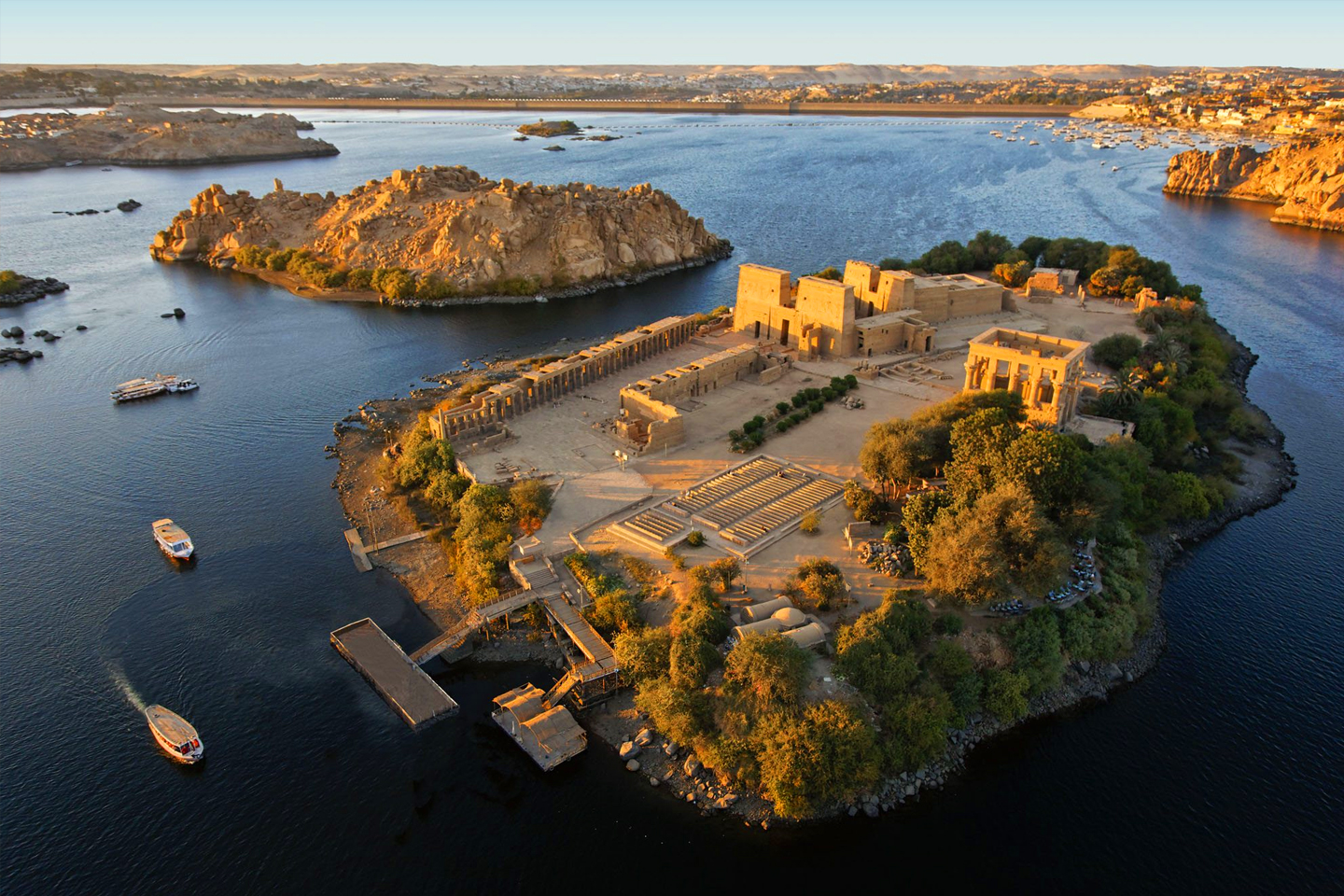 Arrive in Aswan, Where you are met by your tour guide AT [EXIT DOOR, Holding a sign with your name] and begin your day of exploring by visiting the majestic Temple of Philae. Ride a motorized boat to the island of Agilika. This sacred complex was dedicated to the goddess Isis and reflects a fusion of three great civilizations - Egyptian, Greek and Roman. The temple was dismantled and then painstakingly reassembled when the Aswan High Dam was constructed. Proceed to the granite quarries and site of the Unfinished Obelisk. Illustrating the skills of Egypt's stonemasons, this monolith is one-third taller than any other ancient Egyptian obelisk. Enjoy lunch at local resturant, Then transfer to your hotel in Aswan. Meals: breakfast box, Lunch
Day 5: Friday 28 Oct. Embark your Dahabiya boat- Cruising the Nile



Atfer Breaksaft , Transfer to your Dahabiya Cruise boat, and Cruising the Nile to Kom Ombo. Disembark at Kom Ombo (hill of gold) to visit the Greco- Roman temple dedicated to Haroeris (the sun god) and Sobek (the crocodile god), whom some ancient Egyptians considered the creator of the world. View the mummified remains of several crocodiles that once basked along the ancient Nile shore, just as their descendants do today. Back on board, Overnight Bishir Island. Meals: Breakfast, Lunch, Dinner.
Day 6: Saturday 29 Oct Cruising the Nile- Temple of Horus



Today, Sailing to Edfu, View the Temple of Horus, falcon-headed god of the sky. Built in 230 BC by Ptolemy III, this amazingly well-preserved and colorful structure reveals what temple worship in ancient Egypt was like. Back on board, Cruise to Esna and Overnight. Meals: Breakfast, Lunch, Dinner.

Day 7: Sunday 30 Oct Cruising the Nile



Today, the Dahabiya will star to sail toward the north. Sailing and have your delicious lunch. Enjoy Nile views and take rare photos of the Nile islands in the both sides of the Nile. watch the professional captain of the Dahabiya who wear mostly galabya the official dress of upper Egypt men while he move from the port slowly step by step between the another cruises and motor boats. Crossing Esna lock, Saing to Luxor and Overnight. Meals: Breakfast, Lunch, Dinner.
Day 8: Monday 31 Oct Disembark in Luxor and Flying to Cairo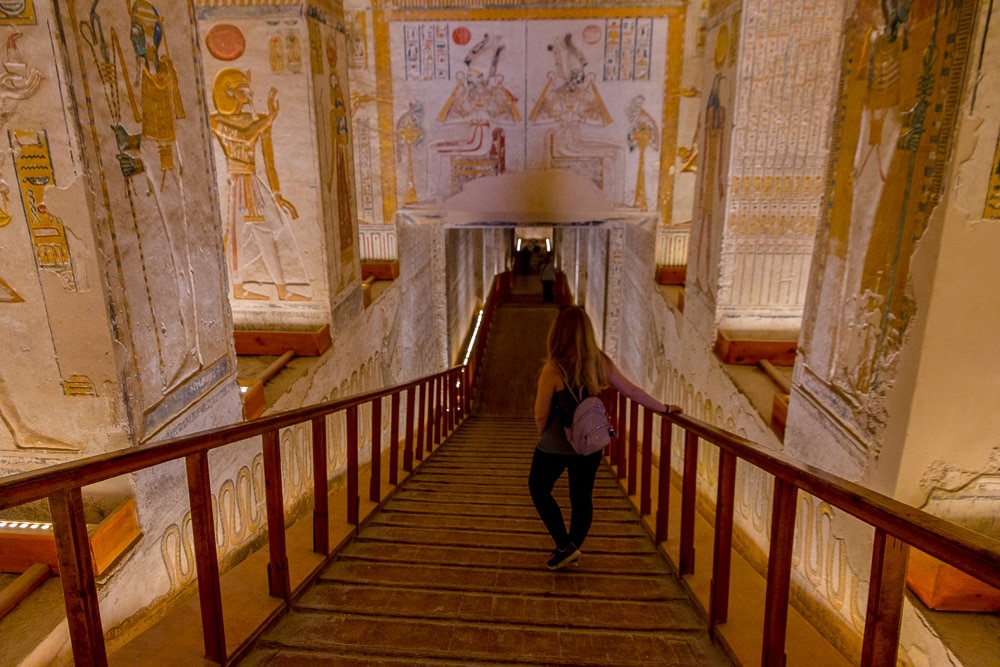 This morning, Explore the West bank of the Nile River, The Valley of the Kings, burial ground of the pharaohs and a UNESCO World Heritage Site. Enter the tomb of Tutankhamun - found in 1922 by British archaeologist and Egyptologist Howard Carter- to discover the secrets of this storied chamber. Next, the architecturally stunning Temple of Hatshepsut, ancient Egypt's first female pharaoh and regarded today as one of its most successful. Stop at Colossi of Memnon. Having lunch at local resturant, Then visit the Temple of Karnak, Walk through the Great Hypostyle Hall, strolling among its expertly aligned columns, Continue to the striking Temple of Luxor. Later, Transfer to the Luxor airport. Flying to Cairo. Meals: Breakfast & Lunch.
Day 9: Tuesday 1 Nov. Egyptair 840 departing 22:00- Final Departure

Have breakfast, then get transfered to Cairo Airport for your final departure.Meals: Breakfast.
Hotel Category: 5 Star Hotel

Cairo Hotel First Stay: Ramses Hilton Hilton.
Aswan & Luxor: Dahabiya Cruise.
Cairo Hotel Second Stay: Le Méridien Cairo Airport
Journey Price
$2250 (Prices are in USD, per person, based on double occupancy).
Deposit
What you paid is $2,000 for 2 People, The Remaining Balance To Be Paid On Arrival Cash Or by Credit Card.
Payment link
USD 2'500
URL for payment
USD 300
Upgrade To Suite Cabin on the Dahabiya Cruise
Payment link
USD 300
URL for payment