Day 1: Cairo to Aswan – Cruise in Aswan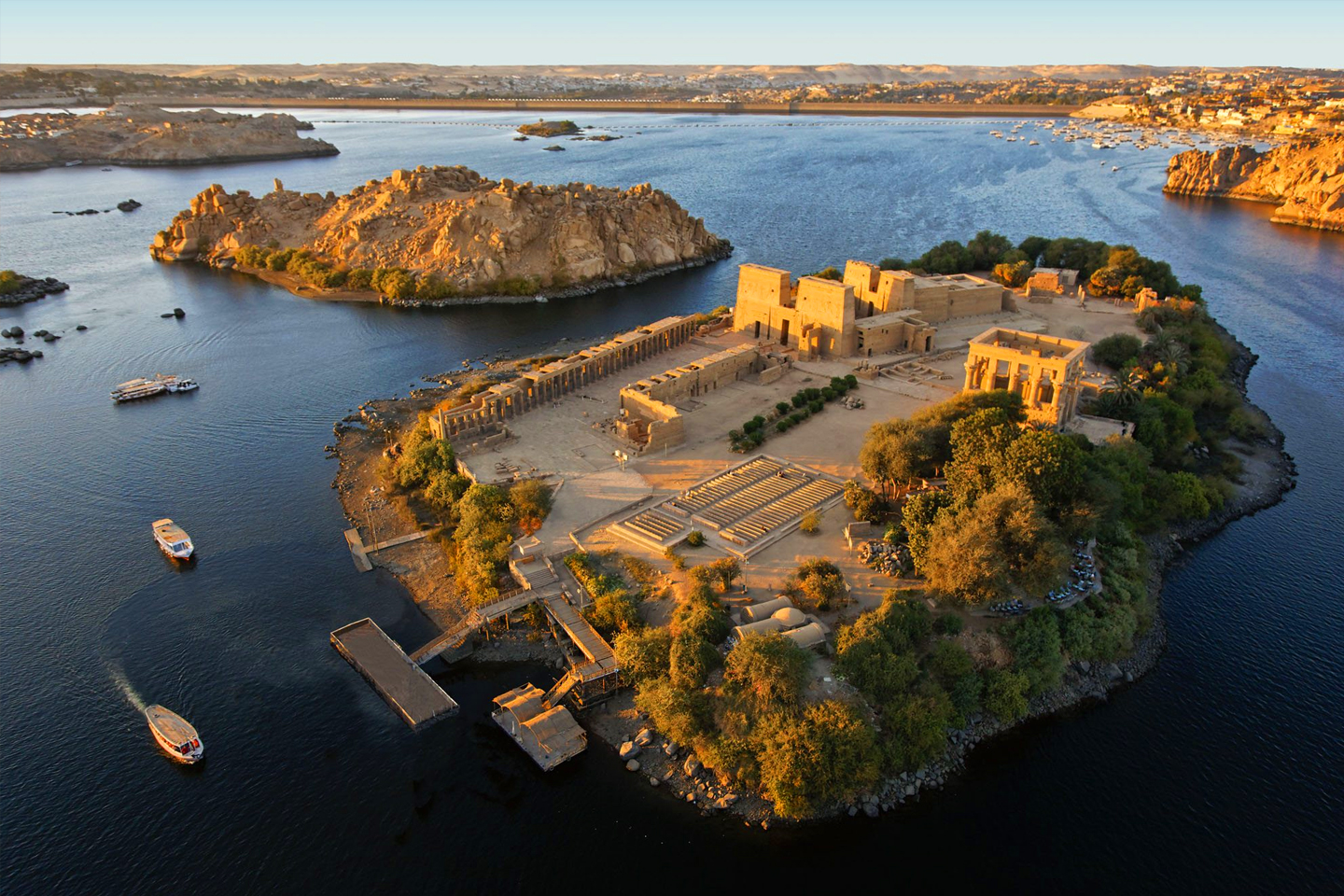 Early morning, your travel representative help transfer you in time for your short flight to Aswan. This small city in the Nile Valley is located south of Cairo. Once you arrive in Aswan, you will make your way to your cruise ship. This unforgettable cruise includes visiting many of the major sights in Aswan.
Today's sightseeing includes:
Aswan High Dam: Built in the 1960s and completed in 1970. Aswan Dam was formally inaugurated in 1971 and was an engineering marvel at the time due to it changing the landscape of Egypt by increasing cultivable land by 30 percent and doubling its electricity supply.
Philae Temple: There were once temples at Philae (construction began in 690 BC) dedicated to the goddess Isis. The complex was moved from its original location on Philae Island to Agilkia Island due to the construction of Aswan High Dam. You'll board a small boat to learn more about the temple here.
The Botanical Garden: You'll have time to explore the grounds of Kitchener's Island—also known as the Botanical Garden—a 16-acre island in the Aswan archipelago located between Elephantine Island and The Nile's west bank.
Meals: Lunch and Dinner.
Day 2: Sail to Luxor - Kom Ombo and Edfu Temples

Your adventure continues as you set sail for Luxor. You will have a chance to get off the ship and explore more sights along with your guide.
Your guide will explain the significance of these temples in further detail:
Temple of Sobek and Haroeris at Kom Ombo: This temple is dedicated to the crocodile god (Sobek) and falcon god (Haroeris). It was built during the Ptolemaic era. Many of the walls of its courts, halls, sanctuaries, and rooms are still intact along with wall carvings and some statues.
Temple of Horus at Edfu: The Ptolemaic Temple of Horus was constructed between 57 BCE and 237 BCE. It is one of the best-preserved shrines in Egypt and inside you can still make out many of its inscriptions.
Meals: Breakfast, Lunch and Dinner.
Day 3: Luxor – Valley of the Kings

Today, you'll continue your Nile cruise tours which includes sightseeing on the river's west and east bank. Your guide will lead you through this tour.
Valley of the Kings: The location of rock-cut tombs for kings and powerful nobles (including Tutankhamun) for nearly 500 years from the 16th to 11th century BCE.
Colossi of Memnon: Visit the ruins of Amenhotep's memorial temple. What remains are two imposing statues of Pharaoh Amenhotep III, which were erected to guard the temple's entrance.
Hatshepsut Temple: The Mortuary Temple of Queen Hatshepsut is the focal point of Deir el-Bahri, a complex of mortuary temples and tombs.
Karnak Temple: One of Egypt's largest surviving temples which was founded in the Middle Kingdom, and was once a key religious center.
Luxor Temple: A large temple complex located on the east bank of the Nile River. It was founded during the New Kingdom around 1400 BC.
Meals: Breakfast, Lunch and Dinner.
Day 4: Luxor to Hurghada


From Luxor, your driver will Transfer you to the Hurghada on the Red Sea. From Luxor to Hurghada is about a 03 hour and half drive. Overnight in Hurghada.
Meals: Breakfast, Lunch and Dinner.
Day 5: Red Sea Beach Day

Today, have breakfast, followed by a free beach day at the Red Sea. Then, have dinner and stay overnight in Hurghada.
Meals: Breakfast, Lunch and dinner.
Day 6: Red Sea Beach Day

Optional tours to experience the exquisite diving and snorkeling among the Red Sea coral reefs and see some amazing rare fish. Or choose one of the many other activities such as windsurfing, sailing and deep-sea fishing. Overnight in Hurghada.
Meals: Breakfast, Lunch and dinner.
Day 7: Fly Back to Cairo

After breakfast, transfer to the airport and fly back to Cairo.
Meals: Breakfast
Hotels and Boats
Category: 5* Nile Cruise, 5*Hotel

Cruise line: Princess Sarah, Princess Sarah II, Zeina Nile Cruise, Radamis II Nile Cruise Or Similar.
Hurghada Hotel: Hurghada Marriott Beach Resort Or Continental Hotel Hurghada Or Similar.
Price
$1500 Per Person in Double Occupancy.
$2000 Per Single Person in Single Occupancy.
Children Policy
Children from 0 to 6 Years $250.
Child from 6 to 11 years old Pay 50% of the adult rate sharing parent's room.
Required details After Booking Process
* Photo copies of your passports, We need them to book your domestic flights.
* Photo copies of your Departure international flights.
* Your hotel name in Cairo.