Day 1: Sunday 06 Feb. 2022

Arrival in Cairo Welcome to Egypt! At the Cairo airport, meet a travel representative who will assist you through customs and formalities. Then, head to your hotel for check-in. Get some rest after the long flight.
Your Welcome Moment: Meet Your CEO and Group Your opportunity to meet your CEO and fellow travellers, and learn more about your tour. Opt to join the group for a local meal afterwards.

Day 2: Monday 07 Feb. Day trip to the Pyramids, Sakkara and Memphis

After breakfast, visit the world-renowned pyramids (Cheops, Khafre, and Menkaure), which are located in the necropolis of Giza.The pyramids and the Sphinx are considered one of the seven wonders of the ancient world. Following the tour of the pyramids and the Sphinx, head to the necropolis of Saqqara to visit King Zoser Pyramid. Later, visit Memphis and Dahshour. After the tour, transfer back to the hotel. Enjoy the evening at your leisure. Meals included: Breakfast, lunch.

Day 3: Tuesday 08 Feb. Alexandria

After taking breakfast at your hotel in Cairo, you will be escorted by your guide to visit the Egyptian Museum. it is one of the most famous museums in the world. Then driving to Alexandria and overnight. Meals included: Breakfast.

Day 4: Wednesday 09 Feb. Alexandria

Spend the day exploring this ancient seaside city, including Pompey's Pillar, the catacombs, and the new Alexandria Library. We have plenty of time to explore all the incredible sites this ancient city has to offer. Founded by Alexander the Great around 331BC, Egypt's only Mediterranean city is characterized by a distinctly European atmosphere and a refreshing sea breeze. Head back to Cairo and overnight. Meals included: Breakfast.

Day 5: Thursday 10 Feb. Fly to Aswan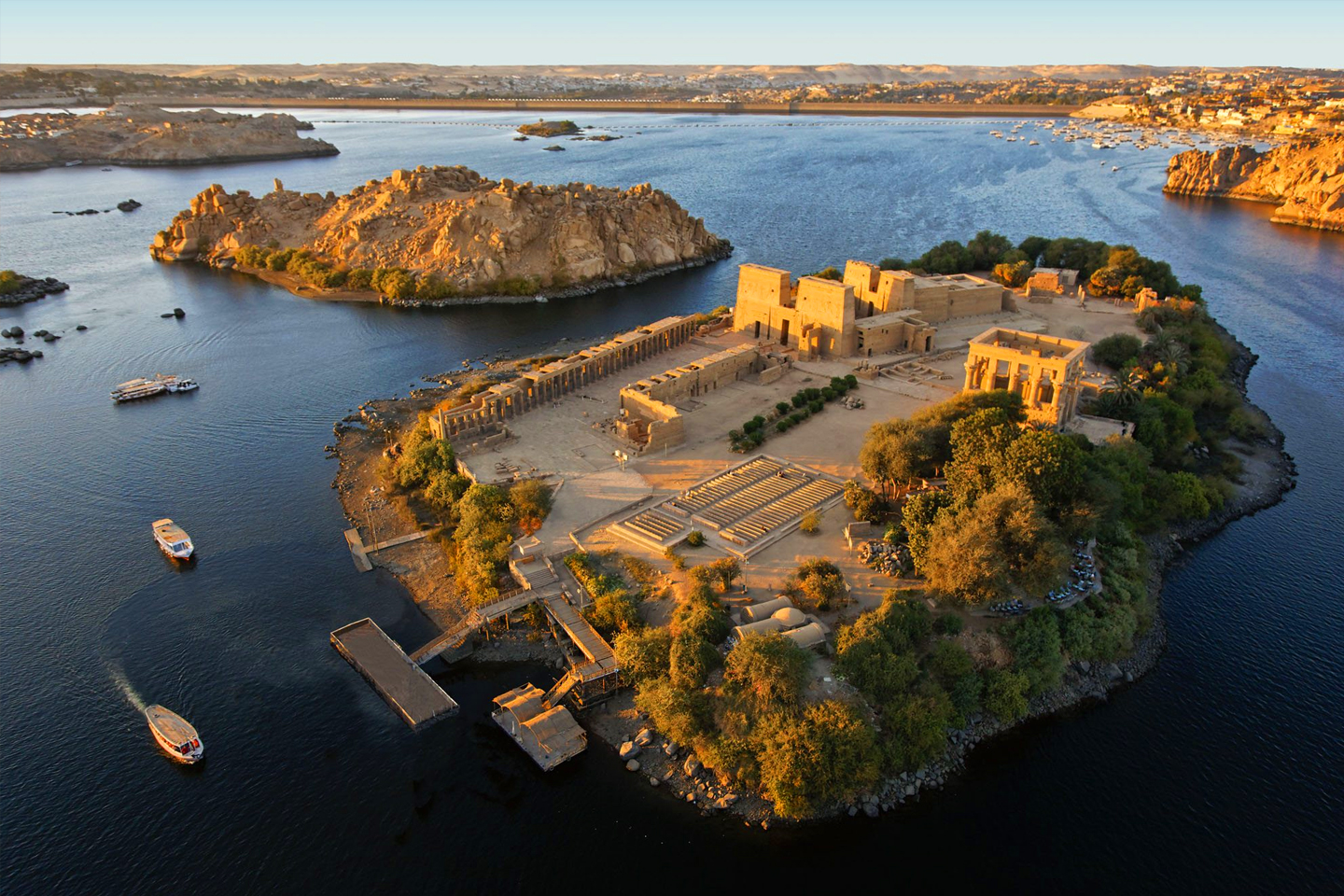 Catch an early morning flight to Aswan. Upon arrival, visit the High dam Then Temple of Philae on the island of Agilika. followed by the Unfinished Obelisk. Later, take a scenic felucca ride on the Nile to a Nubian village and enjoy a home cooked dinner with locals. Meals included: Breakfast, lunch.

Day 6: Friday 11 Feb. Drive to Abu Simbel and board cruise

Early morning, make your way to Abu Simbel temple by private vehicle. Here, there are two, majestic temples. Visit the Temple of Ramses II, the most interesting temple is the sanctuary, where there are four statues—including one of Ramses II—and the Temple of Nefertari. Then, make your way back to Aswan for check-in on your Nile Cruise and stay overnight. Meals included: Breakfast, Lunch, Dinner.

Day 7: Saturday 12 Feb. Cruise - Aswan- Kom-Ombo

Breakfast, free morning..Sail to Kom-Ombo, have lunch & tea time from the sun deck and Then, visit the Temples of the Gods Sobek and Haroeris. Following the tour, return to the cruise and sail to Edfu. Then, attend dinner and the Galabiya party onboard the cruise, with an overnight in Edfu. Meals included: Breakfast, Lunch, Dinner.

Day 8: Sunday 13 Feb. Cruise - Edfu, and Luxor

This morning, travel by carriage to the Temple of Horus. Discover one of the most beautiful temples of the Ptolemaic era, which has experienced exceptional preservation Then sail to Luxor. Enjoy breakfast, lunch and tea time from the sun deck and pass Esna Lock. Arrive Luxor, visit the Eastern Bank , the Temples of Karnak followed by Luxor temple. Spend the night in Luxor, and enjoy the evening on your own. Meals included: Breakfast, Lunch, Dinner.

Day 9: Monday 14 Feb. Luxor West Bank tour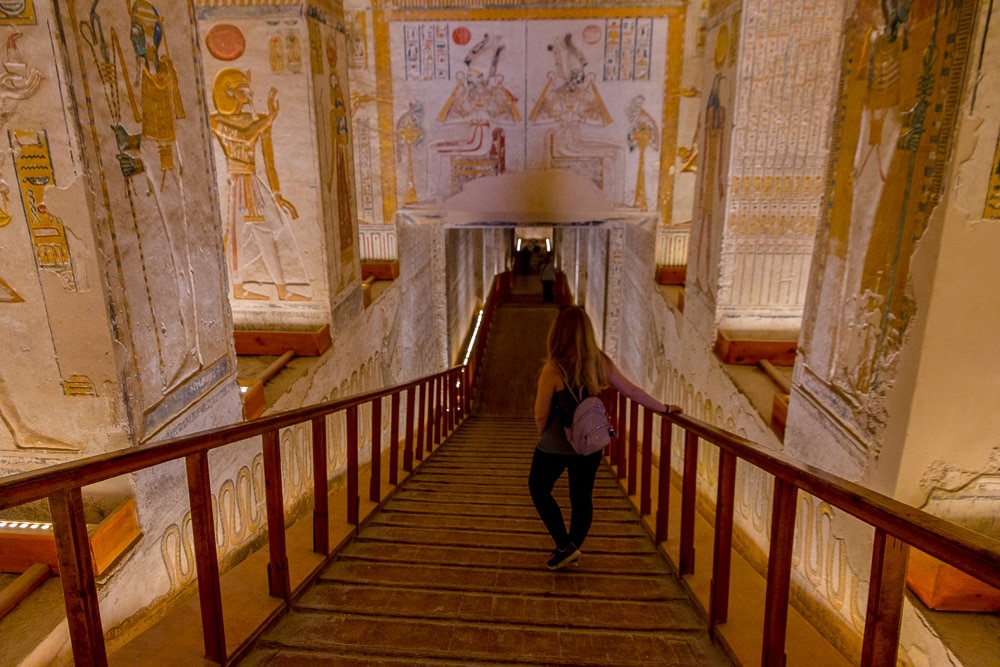 Check out after breakfast and start your tour by visiting the Valley of the Kings, Temple of Hatshepsut, and Colossi of Memnon. Enjoy the Luxor Market and stay overnight in Luxor. Meals included: Breakfast, Lunch.

Day 10: Tuesday 15 Feb. Luxor West Bank II tour

One more day in Luxor, continue seeing more of this amazing city, Visit Medinet Habu Temple and Valley (Tombs) of the Workers ( Know as Village of Dayr al-Madina) where you will see ruins of their mud-brick village and see their richly decorated tombs. End your day tour with a visit to The Ramesseum temple. Meals included: Breakfast.

Day 11: Wednesday 16 Feb. Fly back to Cairo

Catch a flight back to Cairo and start your day by visiting the massive, medieval Salah El-din Citadel and Mohamed Ali Alabaster mosque. Explore this ancient fortress and its domed ceilings, suspended lights, and striking views of Cairo. Continue the exploration by visiting the Old Cairo churches. After the tour, enjoy your final night in Cairo at your leisure. Meals included: Breakfast.

Day 12: Thursday 17 Feb. Cairo - Depart at any time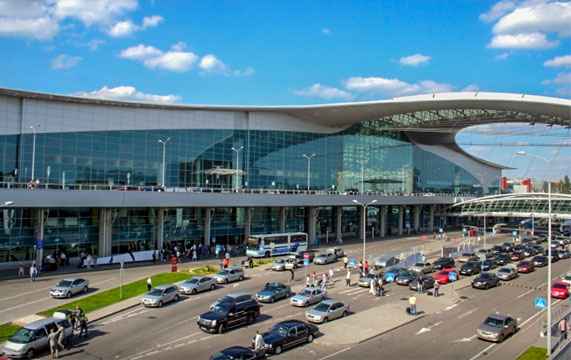 In the morning, enjoy breakfast. Then, check out of your hotel and make your way to the airport in Cairo. Board your flight home with fond memories of your visit to ancient Egypt. Meals included: Breakfast.

Accommodation Plan

Cairo: Steigenberger Pyramids Cairo, Mercure Cairo Le Sphinx Hotel or similar.
Alexandria: Cherry Maryski Grand Royal Hotel or similar.
Aswan: Citymax Hotel Aswan or similar.
Cruise line: Sarah Nile Cruise, Concerto Nile Cruise, Iberotel crown empress Nile Cruise or similar.
Luxor: Mercure Luxor Karnak or Steigenberger Nile Palace.
Prices
$2700 (Prices are in USD, per person, based on double occupancy).
$500 Single supplement.
Prices are quoted in USD, per person, Per Trip, except during Christmas, New Year & Easter holidays (
Christmas date 15 Dec To 7 Jan & Easter date 30 March To 20 April, The Rate will be 50% extra
)

Deposit & Cancellation
Payment Schedule Deposit Per Person at Time of Booking: $1,000 (full-payment if within 90 days of departure)
Final Payment Due:
90
days prior to departure

Cancellation Fees Per Person
91 days prior to departure or more: $500
90-61 days prior to departure:
20%
of program price
60-31 days prior to departure:
50%
of program price
30 days prior to departure or less:
100%
of the program price
Cancellations must be received in writing. Additional terms and fees apply to Internal Air, Extra Services and Partial Room cancellations.