Cruising the River Nile Information, Pros, & Cons
Traditionally, a Nile cruise was considered the centerpiece of an Egyptian vacation, evoking romantic images of idyllic days spent drifting in luxury between the iconic sights of Ancient Egypt. In Victorian times, a Nile cruise was the only way to see some of Egypt's most outstanding ancient temples. Modern visitors have more options available to them; and while Nile cruises are still popular, some find themselves put off by the idea of being confined on a boat for the majority of their vacation.
The river is much busier now than it was in the past, and with more than 200 cruise boats plying their trade, there are lines to get through the locks and to dock at each disembarkation point.
Let's weigh the pros and cons of a Nile cruise so that you can decide whether or not it's a good fit for your visit to Egypt.
What to Expect
Most Nile cruises start in Luxor and visit the popular sites of Esna, Edfu, and Kom Ombo before disembarking in Aswan. Other itineraries fly directly to Aswan and work their way north down the Nile to the same sights. Most cruises will last at least four nights. There are many different vessels to choose from, ranging from traditional paddle steamers (best suited to those that value history and authenticity) to luxurious modern cruise ships (geared towards those for whom creature comforts are a priority).
Your budget and personal preferences will determine which cruise you choose - though opting for a cabin with air-conditioning is advised during the scorching summer months.
Most cruise companies employ the services of an Egyptologist, who will guide your group around the ancient sights you visit along the way. Days start early to avoid the intense heat of the afternoon; and as such, all cruises tend to operate on a similar schedule (which can lead to overcrowding at the docking sites and at the temples themselves). Modern vessels typically have a swimming pool so that you can cool off after your morning explorations; while some provide nightly entertainment in the form of belly dancing shows or themed dress-up evenings.
Food on board is usually excellent, ranging from generous buffets to set dinner menus. Make sure to find out what's included before choosing your operator.
Recommended Cruises
Audley Travel's itinerary aboard the Steam Ship Sudan offers the last word in exclusivity and Victorian-era refinement. The steamship, which was constructed in 1885 for King Fouad, was the direct inspiration for Agatha Christie's famous novel Death on the Nile and still features much of its period furniture and machinery. With only 18 cabins and five suites, a cruise aboard the Steam Ship Sudan is a wonderfully intimate experience; however, those looking forward to cocktails by the pool or elaborate entertainment will be disappointed. The 22-room Oberoi Philae combines a traditional exterior with luxuriously appointed cabins, a temperature-controlled outdoor pool, a movie theater, and a dance floor.
Budget travelers should consider booking a felucca cruise like the one offered by JOURNEY TO EGYPT. Feluccas are traditional Egyptian sailboats, the like of which have plied their trade on the Nile for centuries. They are wind-powered and as such have a more fluid itinerary; while their smaller size allows them to dock at places of interest that don't have the infrastructure for larger cruise ships. There is no luxury on a felucca cruise; you will sleep on deck in a sleeping bag that you bring with you; the food is basic and amenities are limited to a toilet and shower on the accompanying support boat. However, the experience is probably one of the most authentic (and certainly the cheapest) on the river.
Benefits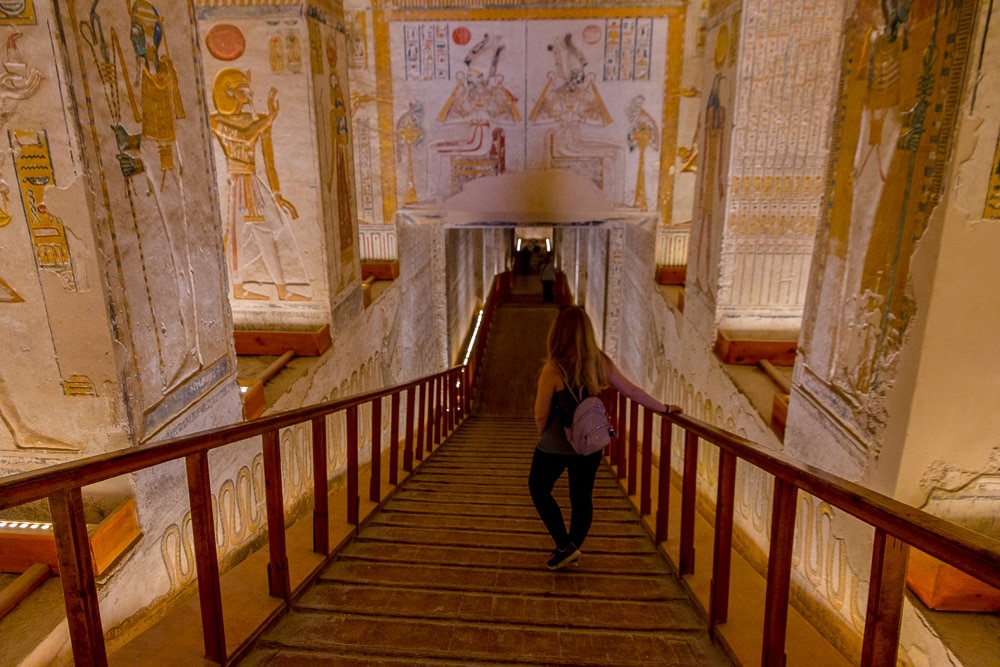 Despite the changes brought about by the progression of time, a Nile river cruise is still one of the most popular ways to see Egypt's ancient sights. Part of that is tradition, and part of it is practicality; after all, many of the most famous sites are located directly on the river, making a cruise the easiest way to travel between them. At night, many of the temples and monuments are illuminated, and the sight of them from the water is simply breathtaking. During the day, the rural scenes you'll see whilst traveling from place to place have remained largely unchanged for thousands of years.
Despite the early morning starts (and depending on which vessel you choose), cruises can also be wonderfully relaxing. While sailing, you'll be able to get a sense of the country without having to deal firsthand with the chaotic roads, busy city streets and persistent hawkers for which Egypt is famous. Although the sites you'll visit along the way are inevitably crowded, arriving in a large group can make some travelers feel more comfortable. You'll also benefit from the knowledge of an expert guide, both in terms of navigating the touts and in terms of understanding the fascinating history of the temples themselves.
Drawbacks
For many visitors, the main drawback of a Nile cruise is not the influx of vessels, nor the crowding at the sites (the latter is unavoidable whether you visit them as part of a cruise or not). The main disadvantage is the inflexibility of a cruise - the fact that you have to operate on a set schedule that dictates when you visit a temple, how long you get to spend there and what you see whilst you're there. If you want to spend more than a few hours exploring the untold wonders of the temple complexes at Luxor, for example, you may wish to travel there independently or with a land-based guide.
These days, overland trips are equally easy to arrange and allow for more flexibility. You can even hire a car or take public transport if you don't want to be part of an organized tour at all. Many cruise itineraries focus solely on the most popular temples, leaving out worthwhile smaller sights like Abydos and Dendera. If you have limited time in Egypt, you may prefer to focus on one or two sights rather than spending much of your vacation in transit on the river. Similarly, the sheer amount of time spent on board can be a drawback if you're traveling with young children, or if you find out too late that you don't enjoy the company of your fellow cruise mates.
The Last Word
Ultimately, whether or not a Nile cruise is the right choice for you depends on your personal preferences. If you like the idea of a cruise, the sheer variety of available options means that you're likely to find a vessel and/or operator to suit your needs. If the drawbacks listed above sound like deal-breakers for you, you're better off saving your money and organizing an alternative option instead.